UniversalBlue Magento Template
1.6.x.x - 1.7.x.x - 1.8.x.x - 1.9.x.x
Magento eCommerce version
This Magento template comes with a bonus
A fast, lightweight, customizable and highly effective checkout extension for your store. A fast checkout is the easiest way to increase your sales!
With this Magento extension you can now provide rates live on product page for different shipping methods with their associated costs.
With a huge list of features, Total Slider Manager is the most advanced and powerful slider manager available for the Magento eCommerce platform, making the creation of slides easy for Magento users at all skill levels.
All of the included sliders have very simple interfaces, so there is no need to edit any code.
Content-based design had nice typography and allows focus on products
UniversalBlue is a flexible Magento template featuring content-based web design, which means that the goods themselves change the look of the site with featured images and titles.
It is noteworthy that the design is simple and clean with no elements that distract a viewer from the focus on the product. There is adequate white space between elements, which is also essential to move to the next generation of content-based design.
Custom jQuery Content Sliders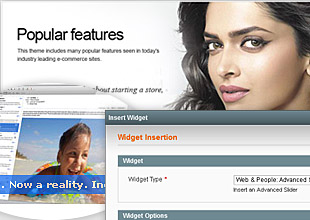 The user is provided with 3 separate slider options for the homepage, including the best jQuery Feature Content Slider plugin.
siteFeature jQuery plugin
Fully customizable size, position, animation, and interaction hooks. 9 'sexy' image transition effects including 'fade', 'wave', 'crash', 'curtain', 'zipper', 'fountain', 'cascade', 'dribble', 'checker', 'enterTheDragon' + customizable 'random' and 'cycle' options.
Custom jQuery Content Slider
The easiest to use custom jQuery plugin is a special slider that can be used in sidebars or on category pages. Using an auto-playing content slider is the one of techniques to show your featured content.
Easy-to-use Slider Manager
Without touching any code you can create multiple sliders that can be included anywhere using the Magento backend. The user adds images to the slider by uploading them as attachments.
All of the included sliders have been tested and have very simple interfaces
Page Templates
The UniversalBlue Magento template allows one to use some common store pages on which one can display testimonials in a sexy styled list. There are also 4 template pages (a full-width page, one with 2 columns on the left side, one with 2 columns on the right side, and one with 3 columns).
OnePage Checkout
It is intuitive and fast checkout. OnePageCheckout uses all Magento functionality: discount coupons; address book, shipping rates and methods, payment methods, automatically update prices, taxes and totals.
When users click 'Checkout' button in their shopping cart, they can immediately see cart items and form with necessary fields.
Shipping Price Calculator
With this Magento extension you can now provide rates live on product page for different shipping methods with their associated costs.
Many Premium e-Commerce Extensions
We have applied unique style for several extensions: Custom Mageno Menu, EasyTabs, Quick Feedback and AW blog.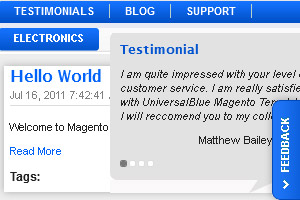 Custom Magento Menu
This useful extension replaces the standard Magento menu with a beauty and elegance multi-column drop-down menu system.
Free EasyTabs Magento extension
This simple Mageno extension allows you to add a tabbed interface to a product page. We have customized this extension with UniversalBlue Template style.
Free AW Blog Magento extension
The Blog extension gives you a noteworthy opportunity to communicate with your regular customers and casual visitors.
Free Quick Contact Magento extension
Users can complete a basic set of fields to contact you, and will be required to enter a simple Captcha to keep you from getting spammed to death.
Additional modules/features:most popular block, testimonials, home page products, payments and customer service information footer block
Great Browser Support
Every browser can handle Universal Blue (there are a couple of caveats regarding IE6)
Top Store with UniversalBlue Magento Template
Finsec.fi turvallisuuspalvelut ja tuotemyynti
Because there are so many custom extensions, page templates, unique sidebars, and a custom menu, it can be molded into whatever kind of site the user wants.
Release Notes
2011-08-12 - This document was successfully checked as XHTML 1.0 Strict
2011-08-12 - Compatibility tests. Support IE6 (limited), IE(7+), FF (3.6+), Safari (4+), Chrome (9+), Opera (8.5+), SeaMonkey (2.0), Minefield (3.7), Avant (11.7)
2011-08-15 - Performance test. Load time: 1.1sec
2011-08-12 - Initial release
What You Get
Template contains a set of necessary components for Magneto
The package includes OnePage Chackout and ShippingPrice Calculator
The package includes PSD sources
Step by Step installation guide
Magento Theme Features Overview
Easy-to-use Slider Manager and JavaScript content sliders
One page checkout extension
Shipping price calculator
Page Templates: testimonials, a full-width page, 2 columns left, 2 columns right, 3 columns.
Features products on the homepage, Most popular products
Customer service information block
Free Quick Contact and AW_Blog Magento extensions integrated
Valid Tableless Design