Intelligent Automation Platform
Data Extraction Engine lets you extract a massive quantity of information so you can implement your big data projects.
Please check the live demo that set for Amazon Data Extraction.
Comprehensive Data Extraction Platform
Designed for data scientists
Data Extraction Engine is an intelligent automation platform that allows enterprise organizations to extract a massive quantity of information. The Data Extraction Engine combines artificial intelligence, machine learning, advanced data flow, process automation and built-in analytical methodology.
We've designed Data Extraction Engine for data scientists and data engineers. This powerful tool makes it possible to manipulate your data and perform advanced calculations using data mining and machine learning algorithms.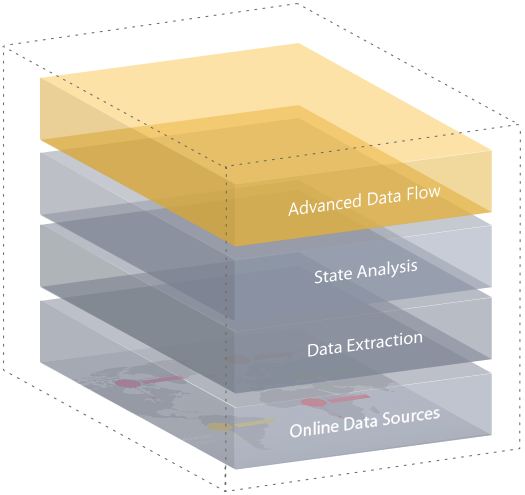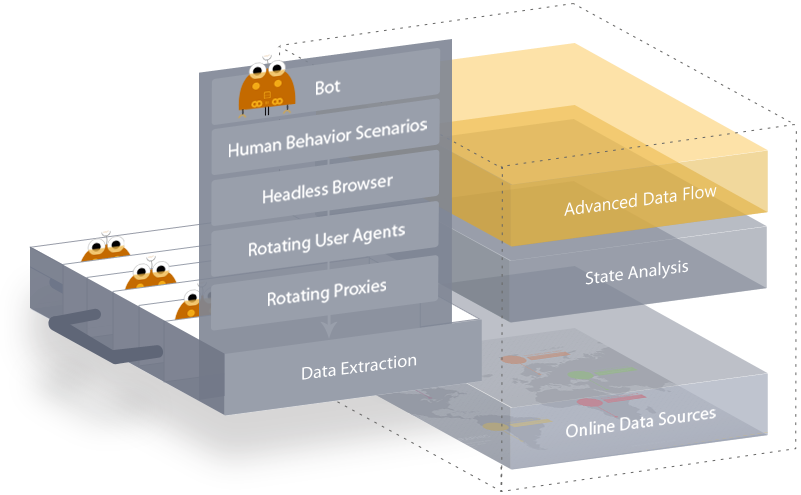 Access to any Source Using Human Behavior Scenarios
The key feature is extracting data from various sources that are protected by anti-scraping technology. The Data Extraction Engine uses rotating proxies, captcha solvers and simulates user behavior to ensure access to the data source.
Our technology has a deep understanding of human behavior patterns. It can simulate user behavior with such accuracy that they slip past traditional detection methods. For every case we will develop a custom machine-learning model based on real users following a specific user pattern.
High Performance Parallel Computing Tool
Designed for mass data extraction
Parallelized algorithms allows the running of multiple simulations to mass extract data through a proxy-rotating platform. You can run several million queries every day.
Extract and exploit your "big analytics data" to feed your data lake, machine learning and advanced analytics projects.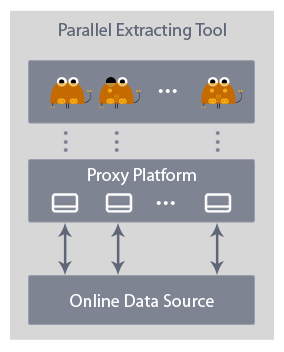 Machine Learning Algorithms
Every data array contains state changes, which allows you to compare the state of your data across time periods and more. Intelligent algorithms based on data markers significantly expand the capabilities of the extraction engine. Automatic optimization and parameterization of algorithms saves a lot of time by evaluating source states to find changes.
Flexible bots' behavior easily changes depending on the external circumstances.
Advanced Data Processing Environment
Based on data flow
Our solution offers near real-time analytics that helps you access, organize, and use data to monitor activity and make the best decisions.
The advanced dataflow contains a set of opportunities for status tracking, importing, cleaning, and preparing data for analysis so it can be easily and properly queried and analysed in the analytics tools.
You can manage the entire data retrieval process, log and track any failures, and be resilient to changes and updates.
The Engine has the ability to make flexible configurations and it may accommodate data source structure changes quite quickly.
Rich configuration would allowthe building of a proper workflow so you can manage the entire data retrieval process, log and track any failures, and be resilient to changes and updates.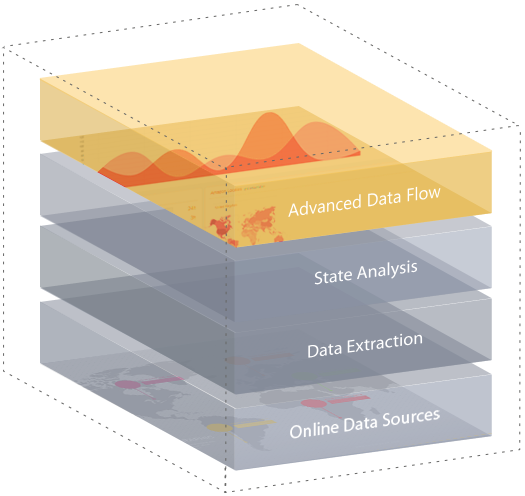 Private Deployment
Our platform deploys quickly and scales easily. Integrate the Data Extraction platform with your enterprise systems, while satisfying stringent data security and privacy. We offer flexible Private Deployments that can run in private cloud or on-premise. We can integrate Data Extraction Engine with your company's Service Oriented Architecture and give your developers the utmost flexibility in automating sophisticated data flows end-to-end via API plus rich XML configuration.
The private deployment and rich toolset help users create, rapidly experiment, fully automate, and manage data workflows to power intelligent applications.
Experienced and responsive, our analytics consultants guarantee you a close, one-to-one relationship and are there to help you get the most value from the Data Extraction Engine.