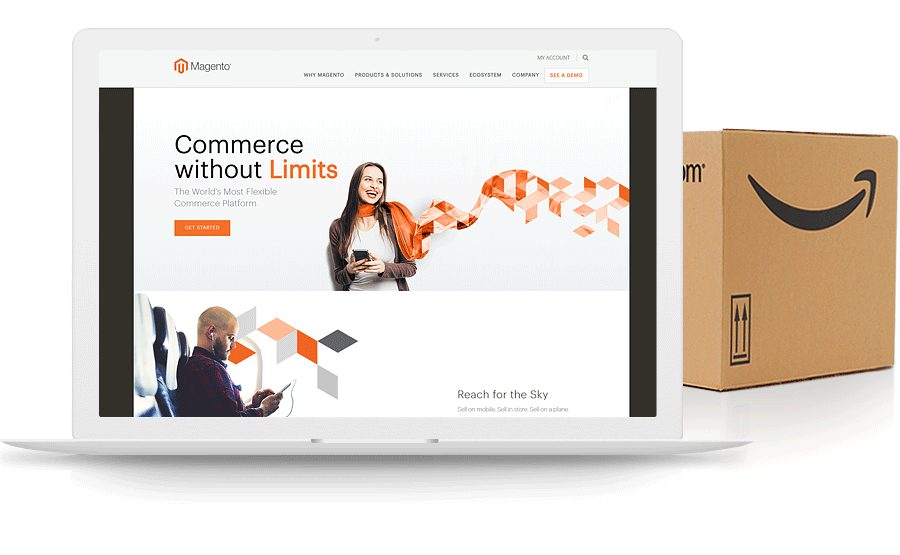 Amazon Affiliates Magento extension
It is the only Amazon Affiliates plugin on the market with extensive searching, filtering, sorting and importing options.
The extension lets you easily and flexibly import products from Amazon to Magento. It works with the Amazon Advertising API that allows you to import product content, descriptions, images, sizes, prices, stocks and all other attributes.
There are different possible Magento add-to-cart actions and a check out-on-Amazon option. Finally, keep in touch with stocks and prices on actual Amazon product data using auto synchronization.
Amazon Scraping Tool
We offer you HTML-Parser Tool based on Zend Framework, which gives few benefits above the existing functionality of the Amazon Affiliate API. This plugin don't use Amazon API and don't use Magento.
You can easily extract data (quantity, price, images, title) from Amazon directly.
Customized Web Scraping And Data Extraction ServicesData is the primary fuel for growth in the Ecommerce. Web scraping service is an necessary resource when it comes to gaining an competitive edge with the help of business intelligence. Web scraping technology can be used to automate and speed up your market explore.
Magento development. Updates.
Latest updates and current workflow
Amazon Products Manager 4.6.9 version release
We have added two options to limit the number of products Read More
Apr 27, 2018
More

Amazon Products Manager 4.6.8 version release

Option to add proxy credentials. New option for variation products import. New option to filter products which do not have a special price. Optimization of search process flow. Read More

Jan 26, 2018

Amazon Products Manager 4.6.7 version release

Fixed "You are submitting requests too quickly" Amazon API issue Read More

Oct 30, 2017

Amazon Products Manager 4.6.6 version release

Redirecting Magento cart to Amazon cart.Response Group variations Read More

Oct 12, 2017
Amazon Magento integration
Why we have to use both Amazon API and Parsing tool
Why it is better to use Amazon Advertising API and the Scraper Tool (Parser) together? Can we use only html scraping? Do we really need Magento? Read More
May 17, 2018
More

New useful tool for parsing Amazon

Parsing Amazon stock and prices. Stable sync using unlimited proxies. Read More

Apr 6, 2018

Amazon Associates program policies important information

Before you start sprinkling affiliate links all over your Magento store, there are some important things to think about. Read More

Mar 1, 2018

Amazon parser

Amazon provides a Product Advertising API, but like most APIs, the API doesn't provide all the information that Amazon has on a product page. Amazon API does not provide exact data about product's quantity, price, reviews and large images. How can one get Amazon products page HTML/XML and extract information from it? The tool to extract all information is the web parser. Read More

Nov 17, 2017
Magento eCommerce
Free basic short "Magento How To" videos
Magento Team just published a free basic short "How To" videos. Read More
May 14, 2018
More

The latest release of Magento Open Source 2.2.4

New release reduces cart abandonment. This release includes new tools, important cart improvements, cron manager, catalog and product page updates and more documentation completed. Read More

May 3, 2018

Magento releases free "3 Competitive Pressures That Drive Commerce" guide.

Today's commerce landscape is increasingly complex and competitive. Adapt to These Pressures to Beat the Competition Read More

Apr 13, 2018

Magento Open Source and Commerce 2.2.3

New versions of Magento Commerce and Open Source to increase product security and functionality Read More

Mar 1, 2018
Free and paid Magento extensions
We offer you a variety of brilliant extensions developed for you to get the best experience with your Magento including Total Slider Manager and Responsive Custom Menu Free Magento Extension.
Customizable, easy to use and fully responsive Magento Extension to download: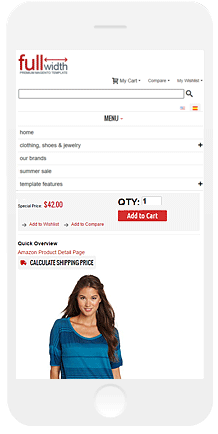 Best Responsive Multi-Store Magento Theme
Full-width is a premium Magento theme with advanced admin module. It's extremely customizable, easy to use and fully responsive. Suitable for every type of store, optimized for SEO. Great as a starting point for your custom projects.
Highest quality Theme accommodate any product specification.
Professional architecture Easy to customize. Minimum required changes to the system.
Overall good things we do: your success is our goal You might check live stores based on our products. If you find our products unuseful, please take your money back.
Unique Magento template design that fits your business perfectly
Web-Experiment.info offers a wide choice of nice looking and easily editable Premium and Free Magento Themes and lets you find the most appropriate design for your online store. Whatever design you choose, it'll be easy to use and customize.
Grayscale Responsive Free Magento Template is a best Free Magento theme suitable for any kind of online stores.
Amazing Customer Reviews
Our customers have given us an average rating of 5 out of 5 at Magento Connect - with over 67 reviews, and more coming in all the time!
We are excited about an opportunity to work with you and your company. Discover the level of excellence that we provide, and why we are considered the leaders in the industry.
Key benefits of our Magento themes
Perfect Magento designModern, smart, responsive design and stunning visual effects
Extensive detalisation Most features you might need are already in place, just remove things you do not need
Easy Magento theme customization Professional css and html gives you flexible structure which you can easily bring to your requirements
Good support Most of our themes are started from Magento 1.4 and support up to Magento eCommerce CE latest version
Time saving business ideology Sample data which might save you days of website setup. Import/export features for the slider manager. Detailed guides
Magento eCommerce platform
Magento Community edition is a flexible, open source commerce platform for developers and small businesses. This free edition delivers the performance and features required to meet the basic commerce needs of business today.
Magento 2 Community Edition ver 2.2.4 updated May 3, 2018
Creating exceptional shopping experiences is easier than ever with the latest release of Magento Open Source (2.2.4). This release includes new tools, important cart improvements, cron manager, catalog and product page updates and more documentation completed.
Magento 1 Community Edition ver 1.9.3.8 with SUPEE-10570 security enhancements patch that was released on February 27, 2018
SUPEE-10570 Open Source version contains resolution of multiple critical security issues. These critical security issues include authenticated Admin user remote code execution, unauthorized data leaks, and cross-site request forgery (CSRF) vulnerabilities.
It will shield your eCommerce store from either of safety related problems. We recommend upgrading your Magento store to this latest version.