Magento development. Updates.
Latest updates and current workflow
Get the Sample Data and Total Slider Manager Magento extension with our themes for free
Pick our Magento themes to find the perfect template to suit you. Get must-have extensions and Sample data included in the package. Read More
May 3, 2017
More

Amazon Products Manager has been tested in PHP7

The extension is also tested in PHP7 and works there out of the box. Read More

Mar 22, 2017

Amazon Products Manager 4.6.4 demo has been updated

Added a possibility to specify configurable product price in most easy cases. Fixed some bugs related to configurable products creation/update. Found potential issues related to configurable products. Read More

Feb 15, 2017

Amazon Products Manager 4.6.4 version release

New version release. Added locales: Mexico, Brasil. Minor bug fixes. Read More

Jan 31, 2017
Amazon Magento integration
Important update regarding the Amazon Product Advertising API
Product Advertising API access restricted to Amazon Associates only Read More
Jun 20, 2017
More

The Product Advertising API has updated URLs

The Product Advertising API has updated the URLs that are returned as part of API request-response. The URLs have been updated to enable deeplinking. Read More

Jun 19, 2017

Best Amazon Fulfillment FBA Plugins for Magento (2017)

We hope this article will help you in selecting the right Amazon Fulfillment (FBA) extension for your Magento store. Read More

Apr 3, 2017

Five Best Amazon Magento integration extensions (2017)

Looking for solutions for Amazon Magento integration? We've put together a list of the five best Magento extensions that use Amazon MWS API... Read More

Mar 24, 2017
Magento eCommerce
Best Free Magento Themes of 2017
Best Free Magento Themes of 2017 Read More
Jun 18, 2017
More

Important Magento 1.x and 2.x Security Updates

Today, Magento is releasing new updates to increase product security and functionality. Read More

Jun 1, 2017

Magento 2 remote code execution vulnerability

Threatpost reported a story about a remote code execution vulnerability with Magento 2 Enterprise and Community software. Read More

Apr 16, 2017

Magento experts and innovators - Imagine 2017

Connect with 2500+ Magento experts and innovators. APRIL 3-5. Read More

Mar 12, 2017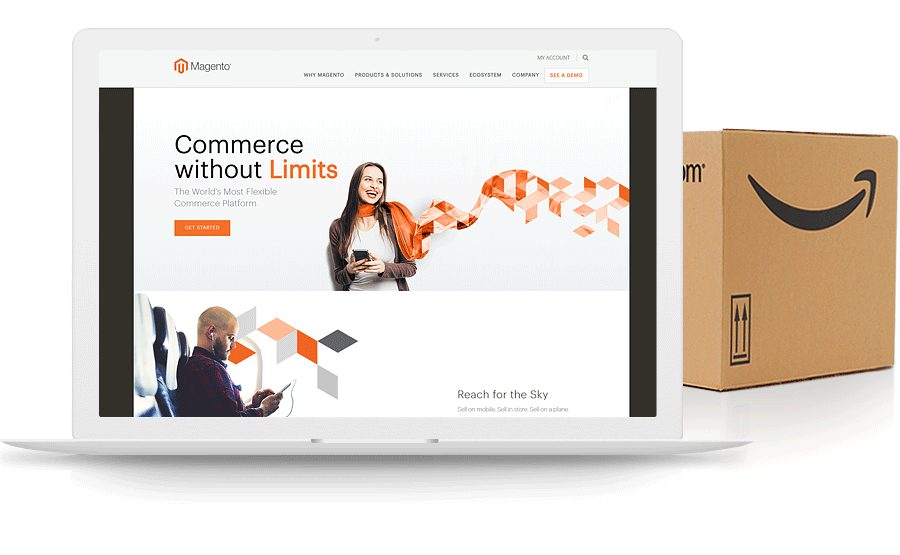 Amazon Affiliate Magento extension
Fast and easy import any products you would like to sell on your Magento eCommerce site. You can import Amazon products content, categories, descriptions, images, sizes and any attributes. Extension works with Amazon Advertising API.
Importing products this way is very easy. All our demo sites display products from Amazon.
Free and paid Magento extensions
We offer you a variety of brilliant extensions developed for you to get the best experience with your Magento including Total Slider Manager and Responsive Custom Menu Free Magento Extension.
Customizable, easy to use and fully responsive Magento Extension to download: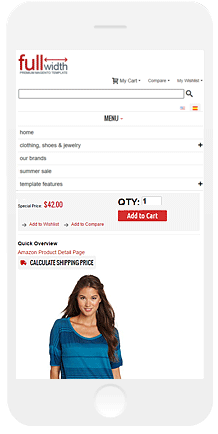 Best Responsive Multi-Store Magento Theme
Full-width is a premium Magento theme with advanced admin module. It's extremely customizable, easy to use and fully responsive. Suitable for every type of store, optimized for SEO. Great as a starting point for your custom projects.
Highest quality Theme accommodate any product specification.
Professional architecture Easy to customize. Minimum required changes to the system.
Overall good things we do: your success is our goal You might check live stores based on our products. If you find our products unuseful, please take your money back.
Unique Magento template design that fits your business perfectly
Web-Experiment.info offers a wide choice of nice looking and easily editable Premium and Free Magento Themes and lets you find the most appropriate design for your online store. Whatever design you choose, it'll be easy to use and customize.
Grayscale Responsive Free Magento Template is a best Free Magento theme suitable for any kind of online stores.
Amazing Customer Reviews
Our customers have given us an average rating of 5 out of 5 at Magento Connect - with over 67 reviews, and more coming in all the time!
We are excited about an opportunity to work with you and your company. Discover the level of excellence that we provide, and why we are considered the leaders in the industry.
Key benefits of our Magento themes
Perfect Magento designModern, smart, responsive design and stunning visual effects
Extensive detalisation Most features you might need are already in place, just remove things you do not need
Easy Magento theme customization Professional css and html gives you flexible structure which you can easily bring to your requirements
Good support Most of our themes are started from Magento 1.4 and support up to Magento eCommerce CE latest version
Time saving business ideology Sample data which might save you days of website setup. Import/export features for the slider manager. Detailed guides
Magento eCommerce platform
Magento Community edition is a flexible, open source commerce platform for developers and small businesses. This free edition delivers the performance and features required to meet the basic commerce needs of business today.
Magento Community Edition ver 2.1.5 Added Feb 21, 2017
This release updates the copyright date in every file. It does not contain any functional changes or security improvements. Isolating these changes in a single release is intended to simplify future updates and developer workflow.
Previous version Magento CE 2.1.4 contains more than 20 functional fixes and enhancements, and one security enhancement.
Security enhancement. While there are no confirmed attacks related to the Zend framework Zend_Mail library vulnerability to date, certain vulnerabilities can potentially be exploited to access customer information or take over administrator sessions.
Functional fixes and enhancements. Catalog: The storefront gallery now displays all the images associated with a configurable product. Magento now successfully estimates shipping costs.
Enhanced Functional of the IndexerHandlerFactory. Fixed bug of the Magento flat indexer.
Payment methods: functional fixes and enhancements. Complete Paypal checkout with products that have custom options. PayPal Payflow Pro now uses the currency you've specified in your store settings.
Installation, configuration, and deployment enhancement.