Hightech Magento Template
1.6.x.x - 1.7.x.x - 1.8.x.x - 1.9.x.x
Magento eCommerce version
This Magento template comes with a bonus
A fast, lightweight, customizable and highly effective checkout extension for your store. A fast checkout is the easiest way to increase your sales!
With this Magento extension you can now provide rates live on product page for different shipping methods with their associated costs.
The Hightech Magento Template is a fresh, beautifully complex and customizable template with many applications in business. It is perfect for online stores selling electronics, gadgets, TVs, cameras, photo, video, and home audio equipment, cell phones and accessories.
It is a completely new template with new functional improvements. Our goal was to achieve an extreme level of flexibility and features, so it will be a great theme. A massive pack of backend CMS options was created for this product to give you substantial control over the content and look of your store. Our idea behind this theme was to create a fresh template—useful, great looking and easy to modify—whether you are a Magento novice or an advanced user.
Page Templates and Static Blocks
With this Magento template, it is possible to create testimonials page, news page, and any text pages (2 columns left page, 2 columns right page, 3 columns page and full-width page). It can be used for service information or any other application that you find useful. In addition, the home page has a fresh-looking section of highlighted categories. Each category has a picture of the main category and then a list of subcategories with links.
Magento Extensions
We have applied unique style for several extensions: Custom Mageno Menu, EasyTabs, EM Quickshop, Quick Feedback, AW blog.
Free Custom Magento Menu
With Our Custom Menu extension, you have flexible menu configuration functionality! This replaces the standard Magento menu with a multi-column drop-down menu system.
Free EM Quickshop
>Magento extension adds a QuickShop icon overlay of product images to quickly view product details on the same page using pop-up effect.
Free EasyTabs Magento extension
This small extension adds informational tabs on product pages. We have customized this extension with Hightech style.
Free AW Blog Magento extension
We have incorporated styles for the free AW_Blog extension, which gives you an opportunity to communicate with your customers and visitors. With Blog, you can create an interactive two-way communication platform to provide news, upcoming products, and promotions, and to get customers' feedback.
Free Quick Contact Magento extension
We have applied unique Hightech template style to this useful extension. Quick Contact allows customers send the feedback to your store in the easiest and fastest way. It also enables administrators to manage contact fields and emails well. Making sure your site gets closer to your customers is important to achieving success in business.
The extension has 5 different sliders to choose from, including home tabs.
With a huge list of features, Total Slider Manager is the most advanced and powerful slider manager available for the Magento eCommerce platform, making the creation of slides easy for Magento users at all skill levels.
All of the included sliders have very simple interfaces, so there is no need to edit any code. It is extremely easy-to-understand and work-with!
Demo Sliders for the Hightech Magento template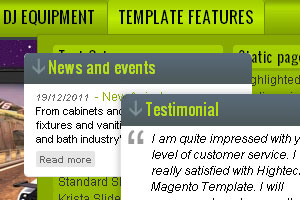 Additional modules/features: customizable catalog; chat support button, most popular block, testimonial block, home page products, social networks, payments and company info footer block.
Top Stores with Hightech Magento Template
Sat-store.net - Satellite phones, Satellite cell phones, Satellite mobile phones

Vaporrenew.com - e-juice, liquid nicotine, joye 510, e-cig, e-cigarette, nicotine juice
Because there are so many custom extensions, page templates, unique sidebars, and a custom menu, it can be molded into whatever kind of site the user wants.
You can have the theme up and running in your store very quickly!
The template offers a complete shopping experience with one-page checkout, a shipping price calculator, a quick product view, a custom menu and much more. Visitors can stay up to date through the banner sliders, news, and blog sections. The home page slider displays the latest promotions so the homepage is always updated with the latest information.
With a clean design, the Hightech Magento template features different backgrounds for your store. You'll discover on your own as soon as you install Hightech Magento Template.
Release Notes
2012-02-02 - Some design changes. We have applied Hightech style for Magento extensions: Total Slider Manager, EM Quickshop and Quick Feedback.
2011-08-06 - Compatibility tests. Support IE6 (limited), IE(7+), FF (3.6+), Safari (4+), Chrome (9+), Opera (8.5+), SeaMonkey (2.0), Minefield (3.7), Avant (11.7)
2011-07-21 - Performance test. Load time: 2.0sec
2011-07-21 - Initial release
Here's what our customers have to say
Fantastic theme and top notch support. It's awesome, it allows me to easily do anything I want to do with my store. Thank you for your great work!
Wannlong
What You Get
Template contains a set of necessary components for Magneto
The package includes OnePage Chackout and ShippingPrice Calculator
The package includes PSD sources
Step by Step installation guide
Magento Theme Features Overview
The home page has been completely redesigned to be more attractive and usable
One Page Magento Checkout
Shipping Price Calculator
Custom Magento Menu, EM Quickshop, EasyTabs, Quick Feedback, AW blog, ShareThis
Page Templates: news, testimonials, a full-width page, 2 columns left, 2 columns right, 3 columns
Multiple backgrounds
Valid XHTML Strict 1.0 Tableless Design
Customer Reviews about Hightech Magento Template
Excellent work

- Review by

Parente

Hello I would like to congratulate the whole team for the excellent work with your templates and extensions.
Richard
(Posted on 8/8/2013)