Apparently the most powerful Affiliate program today is Amazon. Over last 10 years this retailer has become huge. It's a dominant online market, selling everything from ping-pong balls to furniture.
Estimated startup cost
Starting an online store can be a scaring thought especially when you are not a technical expert. Today anyone with an internet can get started within a matter of hours and without acquiring any techie skills.
The three things you need to start an online store are:
A

domain name

idea. Check domain availability of the new zones. These generic top-level domains (gTLDs) include .email, .link, .domains and many more in the web's large pool of names.

Magento dedicated hosting

. Low-level hostings like Godaddy, Hostgator, Siteground etc. would be too expensive for Magento. Dedicated hostings like Nexcess, Simplehelix, Magenting would fit the best. Magenting.com has automatically installed Magento on your store.

SSL sertificate

. SSL is an encryption protocol used to secure data trasnfer. So SSL provide a guarantee of the authenticity of the website to the user. Most payment gateways use SSL that required to processing credit card payments.
Usually a domain name costs around $15 per year, dedicated hosting service plan is around $50 / month, and you can find free SSL certificate (Let's Encrypt, Comodo SSL, Free SSL Certificate). That's an estimated startup cost that you can plan before the launch.
Affiliate marketing with Amazon is a great way to make a living at home. But it takes more efforts than only posting a some affiliate links on your store.
Determine your interests. Determine a handful of good products you want to promote

Don't try to promote everything. We can show you what things to avoid while choosing the right niche to enter.
Please see top highly profitable Amazon affiliate websites that occupy following niches:
THEWIRECUTTER.COM: gadgets, gear, and electronics
LUCIESLIST.COM: baby products
OUTDOORGEARLAB.COM: outdoor gear
SNAPSORT.COM: digital cameras
THISISWHYIMBROKE.COM: fun gifts
NOOTRIMENT.COM: supplements
Select the goods which are worth or useful for your visitors and appropriate to your niche. Always do research, see what the product is about. If possible give that product a try. Promote a product you have idea about.
Choose a narrow enough sphere to be specific and choose products carefully. There is no point in to sell a product that is in low demand. The best way is to spend a lot of time researching and finding out top products.
When you're going to be doing item recommendations, so pick a topic that you like and you know something about. You can reading reviews on Amazon to define top products of the choosing category. This will make you sure that you are choosing a right product and it will give you a brief idea about possible advantages with the item.
Make product recommendations fit with your store topic and keep your recommendations authentic. The only think you should remember is know product details, conditions, company etc. Focus on the items you use and love; your visitors are more likely to hear your recommendations that way
A good idea: cooperation between Kickstarter and Amazon has brought about some unique products. Check out top selected products from Kickstarter on Amazon. Also please check Interesting finds updated daily.

Adding products to your store

The best Magento Amazon integration is to download Amazon affiliate products right into your Magento catalog. It allow you to sort Amazon products by sales rank, review rank, discount and price. The extension supports search Amazon by category, keywords, ASIN, EAN, SKU, UPC, FBA products, Min. Price, Max. Price and automatic product synchronization using Magento cron job. Save your time!
Decide how you can create additional content. Coming up with articles content shouldn't be difficult:
Products we loved
A holiday gift guide
Gifts from $5
Current steals and deals
You can use freelancers or guest posts from your community members. Ask your guests to leave useful feedback. Your visitors would surely show interest if you keep an open end in your articles. Create your own link building tactics in the future.
Build decent traffic
Generate affiliate-focused content. Here is an examples of content strategy of top affiliate sites.
Wirecutter's team do fun tests with very good products and writing high quality reviews with topical information. For example: "The Best Running Headphones", "The Best Smart Lock", "The Best Cell Phone Plans". Peoples likes reviews and this articles can assemble hundreds of comments!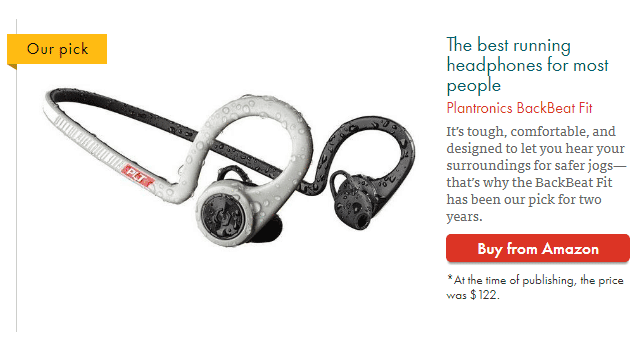 Lucie's List site public the weekly email newsletter, a.k.a. "Crib Notes". Site's team asks to input the baby's birthday so they can send relevant content to the user exactly when needed. Also they offer to read guides for each stage a family go through when they having a child.
Outdoorgearlab create world's best outdoor gear reviews. They publicate valuable info with a table comparing different products with a more detailed review of each one below it. Total word count in reviews are between 6k-10k words and about 1k unique words. Also they offer for users to write their own product reviews in the comments so they have building an effective community for long-term success.
Thisiswhyimbroke use this tactic:​ they have a huge list of category pages. They use very competitive search terms in catalog, such as "Gifts For Geeks", "Gifts Under $20". This tatic allow to keep Google rank for categories despite short products descriptions. Once you rank on first page, you can get targeted traffic very long. Also the site have a big banner with Amazon's "deals of the day" on the homepage.
Nootriment tactic is great for search engines. They public huge of content with target keywords. Supplements have a large profit margin and they use affiliate links for Amazon and manufacturer.
You can read other reviews in your scope and leaving comments when you have something of value to add. It's will be helpful to give you more visibility and it will be position you as being active. It also can drive traffic back to your own store. It takes time to rank in top 10 Google results for competitive keywords.
Most intelligent ways to use affiliate links.
No matter what page visitors entered on, they are have an opportunity to go through an affiliate link (either in the product description or in the side bar).
Regular revise your old posts and add affiliate links. Even if you linked it up before, clean up the post, and move new affiliate links to another place.
Promote the products you choose
Decide how you're going to promote the products you choose. The main idea is to getting the right traffic that will convert into Amazon sales.
Now more than ever, 81% people go online to research their buying options.
1. Write articles for your store about selection or buying a product that selling on Amazon. If you're a carpenter, you can write an article on choosing a low price chisel with a link to your top choices and related products.
Many products works best or are enhanced with additional accessories. Because of that, it's important to promote with accessories or other products. You can promote special offers, upselling and cross-selling that are default Magento functionalityes.
2. Write review of new product. Again, people want to know about items before they invest money in it.
3. Write about bestsellers. You can check the best sellers on Amazon or check your statistics to see what has sold best if you have an affiliate orders history.
Include multiple links and linkable photo in your texts. Don't forget to include a disclosure that the link is an affiliate link according the Operating Agreement requirements.
Add stars in search rating
Reviews are very helpful for getting traffic from Google and with new schema data, you can add rate product in star. You can use Magento Rich Snippets Suite ($65) or add latest schema.org mark-up code (structured format) yourself.
Rich snippets allow you to make your existing SEO visibility more efficient, by making your catalog more competitive and visible to prospective users of your store. It will help you to increase the trust and position in the search result.
Test and estimate
Use various store promotion strategies so you can figure out what is effective and what is not. So conversions tracking is an important process in your affiliate store launch. It can help you truly understand your market and will help you be more efficient.
Track your visitors and sales with Magento and Google Analytics. Magento has the ability to track sale with Google Analytics out of the box. Navigate to System -> Configuration -> Sales -> Google API and expand the Google Analytics section.
What's your best advises for doing well on Amazon affiliates?