How to download Google font
Go to Google web fonts, choose the font and press "Quick-use" link.

Select URL

Open URL and find real URL to download

If you will open this URL in your browser you can download font file.
How to implement Google font in Magento
Rename font file and put it into css folder. For example, oswald.woff.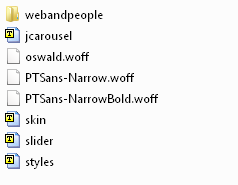 Insert font definition in the skin.css file or custommenu.css file.

Then you can use this font as usual.