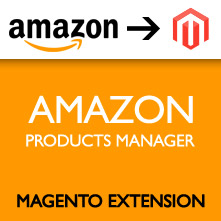 Searching for products becomes more flexible!
Now all filtering and sorting options are available for all locales.
Define the Amazon category node ID (BrowseNode)
Added useful feature for finding products. Product categories are now marked with links. Clicking this link would set custom category to a corresponded product category.
What are Amazon browse nodes?
Amazon uses a hierarchy of nodes to organize its items for sale. Browse nodes are related in a hierarchical structure. More info: Findbrowsenodes.com
This way you can easily find proper custom category for product search. Check the guide here: Search using the category node number

Sort Amazon products
You can now sort Amazon products by
Sales rank
Avg. Customer Review (Review rank)
New and Popular
Price: Low to High
Price: High to Low
Newest Arrivals
Alphabetically
...any other possible way depending on locale and selected category. Full list of available sorting options
---
Key Features of the Amazon Affiliate Magento extension:
Fast and easy import Amazon products would you like to sell on your Magento eCommerce site and get affiliate commission
Import Amazon customer reviews into Magento
Integrate Amazon fulfillment into your Magento store
Manage product attributes
Preload prices management - add your commission