We all know that data analysis plays a is a very important role in every aspect of life, especially in business. If you are looking for powerful Amazon scraper for:
Compare and monitor competing products for competitor price analysis, competitive pricing, cost management, and seasonality tracking
Compare and identify opportunities for international sales with a product and offer information from overseas shopping platforms
Get the Amazon top selling product lists for a category with bestsellers information
Compare and monitor competitor assortments (with a product and offers information) for competitor assortment analysis
Get the Amazon product search results information to know the ranks and other product-related information in product search result list
Get the Amazon reviews information for review management
Get the Amazon shop information, know where your competitors' product categories are competitor assortment analysis
Amazon Data Extraction Engine
High-performance tool for scrape content from Amazon. With this solution you can scrape Amazon stock, price, description, images, title and sync it with your system. You can easily get this data from Amazon directly.
It is easy to configure the Engine for certain needs - like to scrape data with only prime offers, not to take international merchants. Also, you can exclude products like Add-ons, which are not sold alone or sold for an additional fee.
Amazon Products Manager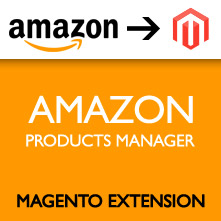 Amazon Products Manager allows scrape and auto post products from Amazon to Magento. The extension offers extensive searching, filtering and sorting options so you can filter and customize your search results to find the exact products you want. The extension allows you to generate any Magento product attributes from the data delivered by the Amazon API. With huge search functions, you can scrape Amazon top-selling products, Amazon product search results, Amazon top rated products, competitor assortments. You can download the FREE version of Amazon Magento extension.
Please share your experiences or concerns about Amazon scraper below.