New reliable tool for parsing Amazon. With this HTML-parsing tool you can extract Amazon stock, price, description, images, title and sync it with your system. You can easily get this data from Amazon directly.

User guide: contents
---
Import ASINs into databsase
First we need to import some products into parser's database. Select "Import ASINs" mode.
Make sure your ASIN's list in CSV format.
Select the Amazon's locale (com / fr / uk / ca) and hit "Start upload".
Choose products to sync
There are options to select in the Product list tab:
Select all
Unselect all
Select visible
Unselect visible
You can choose mass action:
enable
disable
exclude from sync
include for sync
sync selected
delete
Sync selected products with Amazon
For sync your products with Amazon, choose "sync selected" action.
When you're done, hit SUBMIT button.
As you can see we have the same quantity in the Parser and in the Amazon site after synchronization.
You can check the price and quantity by this link:
Here is the popup with additional information (Prime offers, shipping info):
Download csv file
Now you can download csv with FULL product's data.
Additional features
You can filter and sorting products as you need. Change product's sort order.
Parsing configuration
Parsing configurations are based on xml files which you can edit. Files are here:
[YourDir]/data/parser/Config/Profile/
You can set system to parse by certain seller or prime status. Example of config file with parsing prime and seller in the following screenshot. Also you can see Amazon API account settings (if you need to use API)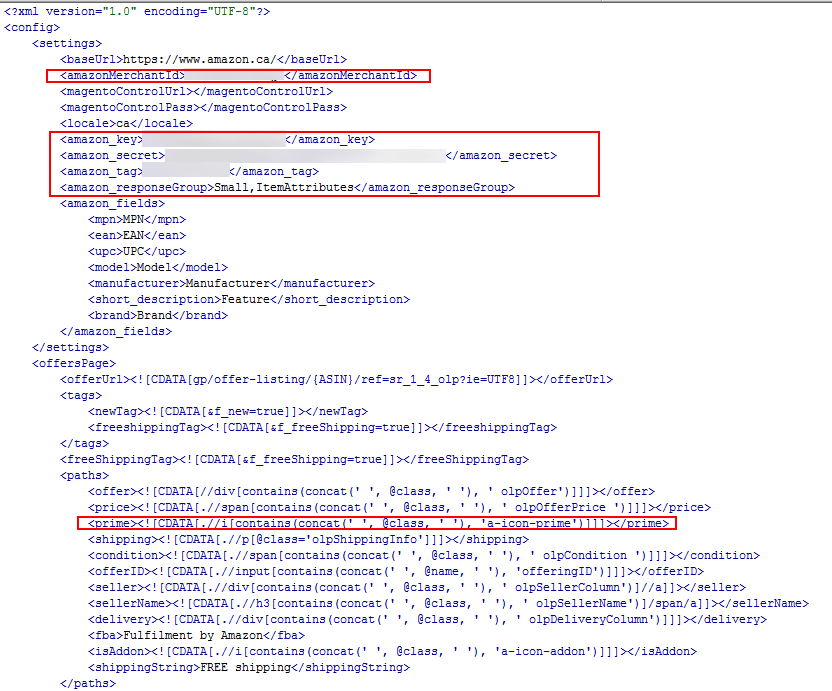 ---