The affiliate program provides a unique way for your store to link to thousands of Amazon's goods — as well as electronics, books, apparel, household items, software and more — while earning commissions on Qualifying Purchases. So Amazon is the most reliable solution for earning money online.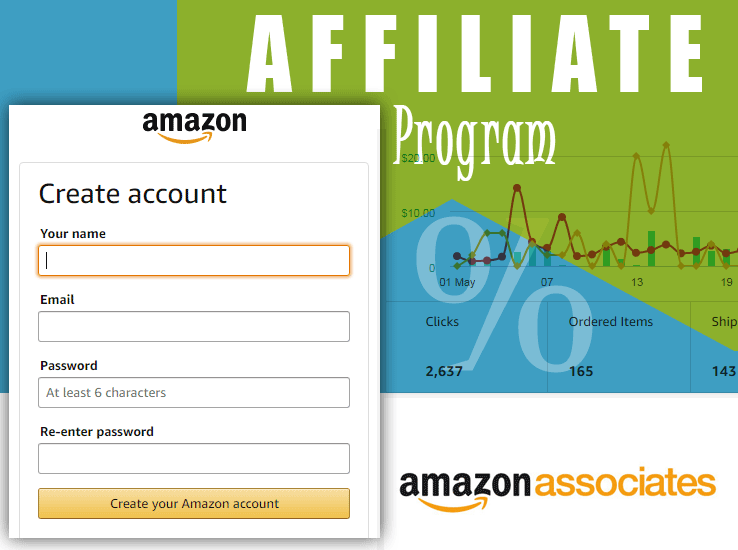 Our Getting Started Guide is here to help you know the outlines about the Affiliate Program and lead you through a few shortcut steps to get up and running.
Various affiliate networks (the ones on various affiliate projects) sticks different types. An affiliate program type can be: Cost Per Click (CPC), Cost Per Sale (CPS), Cost Per Action (CPA), Cost Per Lead (CPL).
Cost Per Click (CPC) type pays for "clicks" — no matter whether your referral traffic generated them actual sales or not.
Cost Per Sale (CPS) type pays for actual sales and it signify you have a percentage of sale value.
Cost Per Action (CPA) type pays you for specific actions and it can be simple form surveys, downloads, etc.
Cost Per Lead (CPL) type pays for leads and it's mostly a "signup" that contains email or credit card check.
Amazon affiliate program is Cost Per Sale type.
Standard Program Rates and Information
Amazon will give you standard fees declared in the section "Standard Program Fees", rated as a percentage of Qualifying Revenue.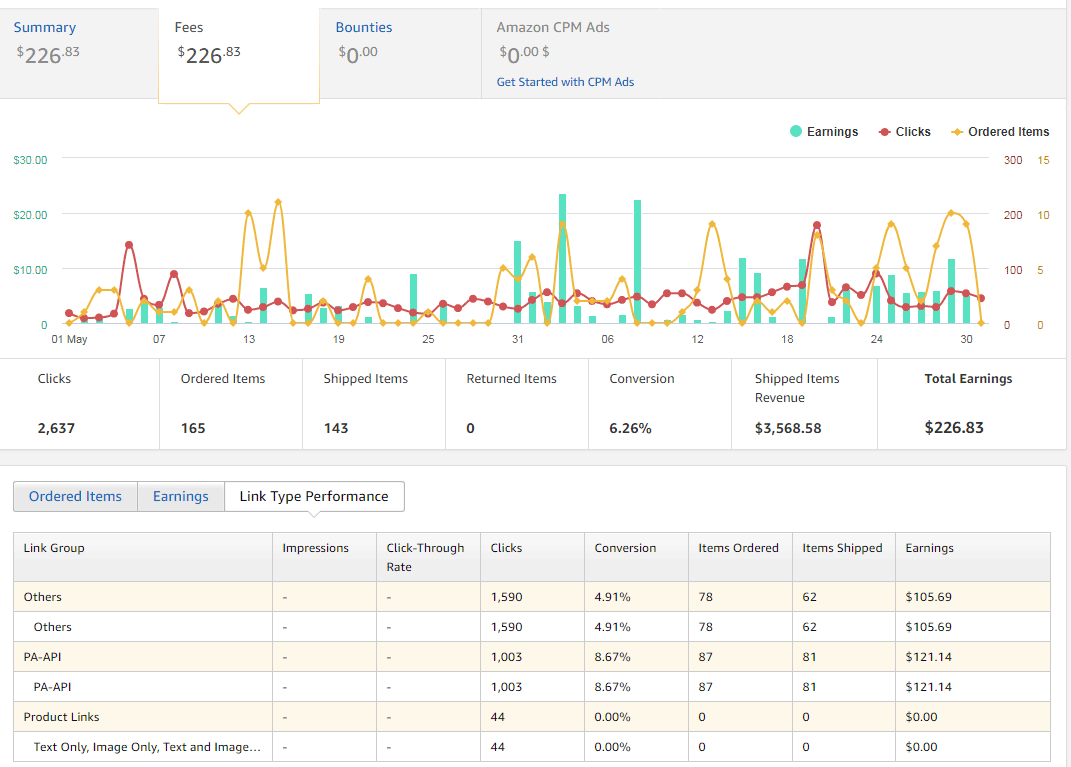 The Standard Program Fees accrued will be the matching fixed rate of Qualifying Revenue pointed out in the following list:
Amazon Gift Cards, Wine - 0
Video Games & Consoles - 1.00%
Televisions - 2.00%
PC, PC Components, DVD & Blu-Ray - 2.50%
Toys - 3.00%
Amazon Fire Tablet Devices, Dash Buttons, Amazon Kindle Devices - 4.00%
Physical Books, Health & Personal Care, Sports, Kitchen, Automotive, Baby Products - 4.50%
Digital Music, Grocery, Physical Music, Handmade, Digital Videos - 5.00%
Outdoors, Tools - 5.50%
Headphones, Beauty, Musical Instruments, Business & Industrial Supplies - 6.00%
Apparel, Amazon Echo Devices, Amazon Element Smart TV (with Fire TV), Amazon Fire TV Devices, Jewelry, Luggage, Shoes, Handbags & Accessories, Watches - 7.00%
Furniture, Home, Home Improvement, Lawn & Garden, Pets Products, Pantry - 8.00%
Amazon Fashion Women, Men & Kids Private Label, Digital Video Games, Luxury Beauty, Amazon Coins - 10.00%
All Other Categories - 4.00%
Step 1: Submitting Your Information
Relying on your geographic position or your target market, you can sign-up for the Amazon affiliate program.
If you plan to promote products from all Amazon locales, you can sign up for Amazon affiliate program for all countries.
Violating the Operating Agreement
Associate links can only be used on approved websites and are not permitted to be used in e-mails, newsletters or in any off-line manner. Sending links via email will cause your Associates Account to be shut down indefinitely.
Please check your Magento data feed. A data feed is a text-based list of all or some entities of a particular data set that can be found on your eCommerce store. Data feeds are commonly done for products, which provides third party services easy access to your store's offerings. So your feed is always available and anyone can access it.
For example, if you use free AW blog, settings are here: Configuration->AHEADWORKS EXTENSIONS->Blog->RSS Feed tab -> Enable Blog RSS Feed: Yes/No
Being familiar with these guidelines before you start creating links will ensure you comply with Operating Agreement requirements and receive the greatest benefit from your communications.
Step 2: Account Setup and your Affiliate Tracking ID
The form is pretty easy to fill out. Just add your personal details. This will be your official profile, so please make sure all information is correct.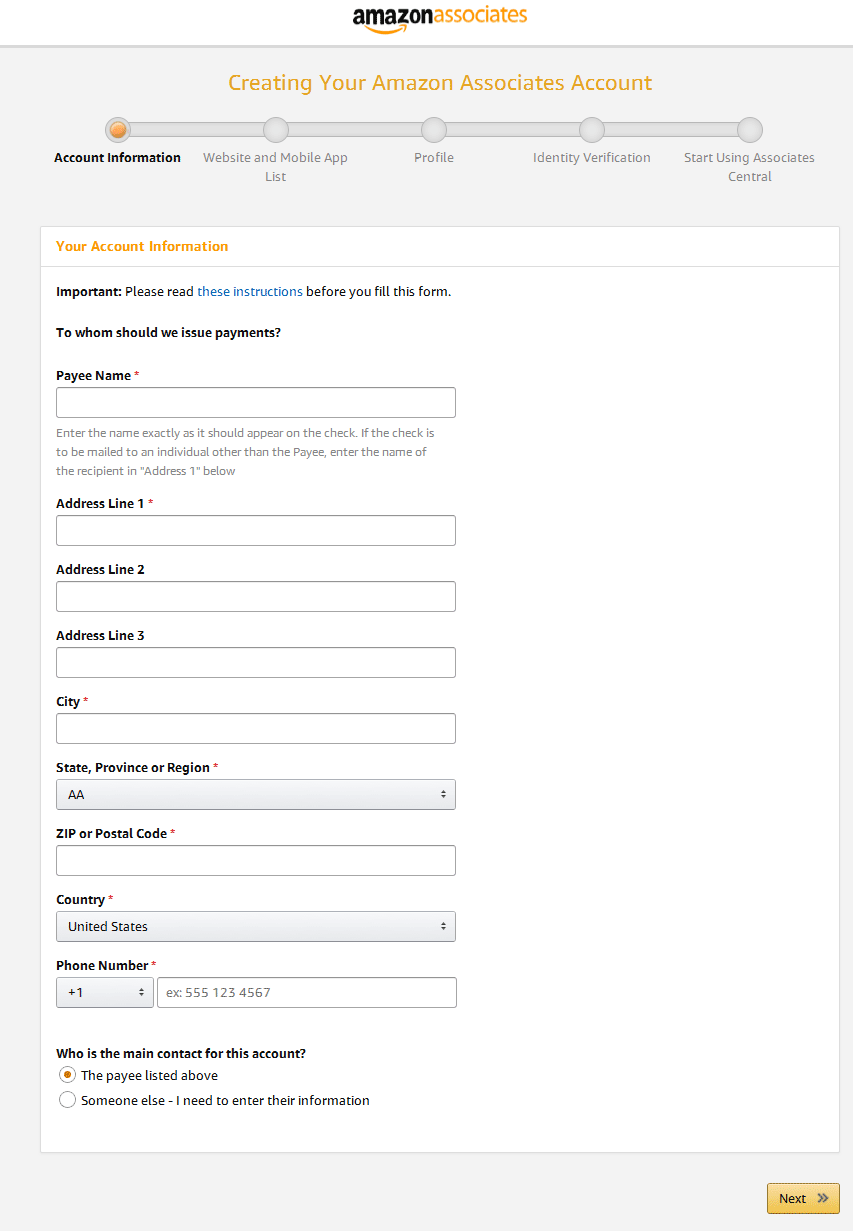 Identity verification is a 3 step process. In order to verify your identity, Amazon asks for a phone number which they use to make an automated phone call. Click "Call me now" to genearate the PIN, after which you will receive a call.
List all the top level domains and/or mobile apps on which you plan to display banners, widgets, Special Links, or other ads from Amazon Associates. You need to add at least one website or mobile app. You can add up to 50 websites or mobile apps.
In the last step of the Account Setup, Amazon welcomes you to their Associates program. It is at this point that you can choose how you want to be paid.
You can manage your Id in Your Associates Account ->Manage Your Tracking IDs section.
In the section Reports->Fees->Earnings tab you can check Total earnings from advertising fees (generated from the sale of products) and bounty earnings. Here you can see all items your visitors have ordered through your Amazon Associates links. All sales as they happen throughout the day.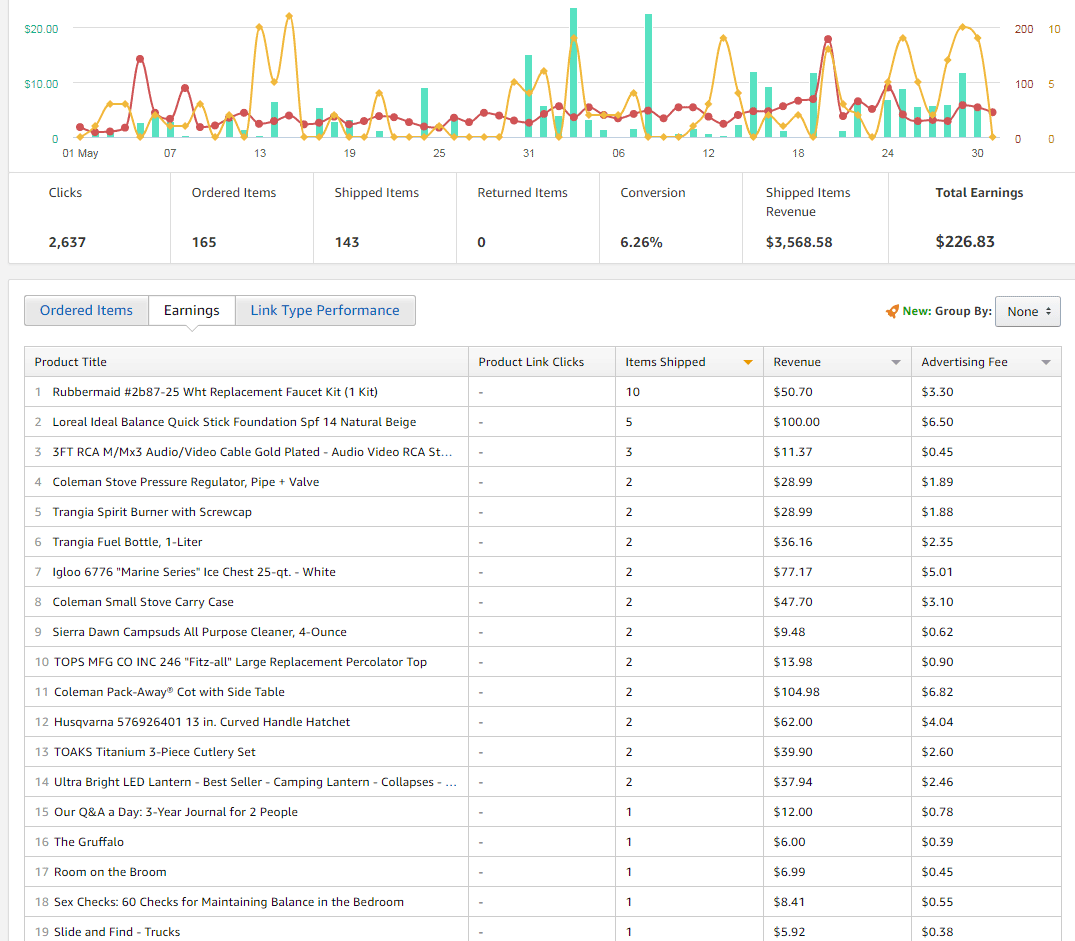 Step 3: Checklist. Things to check for before promoting an affiliate product
There's always a risk that you might not get paid for your efforts, and to avoid such scenarios (and headaches), you should make sure to check for the following things before start promoting any product.
Ensure to check the payout methods supported by the affiliate network or program. If you don't see any payout method that works for your country, you should talk to affiliate manager or use the program contact form & see if they can do something for you.
Here are some of the most popular ways to get paid in affiliate marketing: Paypal, Payoneer, Direct bank deposit, Check
Unlike traditional Ad networks, most affiliate programs pay you when you reach a minimum payout threshold of $50. There are exceptions, but more or less, it's $50 for most affiliate networks.
The API now limits queries to about 10 per minute and this is subject to change. As a result, if you have an extension that heavily uses the API and has a high volume of search queries.
Step 4: Creating Links and Ads
When you join the affiliate program, you will be provided with an advertising link you can use on your store. So the next step is to get links, banners and widgets for your pages. When you add these ads to your store and visitors click on them, you can get up to 10% on all purchases made during their shopping session. Depending on your niche, you can select different types of ads.
Banners
You can choose from Promotional Links, Rotating Banner Campaigns by Category or Banner Links by Category. If you have a home goods store, you can add the sidebar widget called "Home & Kitchen - Best Sellers". The content of the link is served by Amazon. So you don't need to download the graphic. Also Your Associates ID is already embedded in this code. Just highlight, copy the HTML code and past to your page.
You can choose the size of banner from: Responsive (Beta), 300x250px, 160x600px, 120x90px, 125x125px, 468x60px, 728x90 px and 320x50 px. Responsive Banner will display the mapping size whether your client came from a desktop or mobile device. It is available only as JavaScript code.
Also you can choose from iFrame or JS implementation. Javascript tags call upon a script with embedded code and tell the browser to read the JavaScript. JavaScript is perfect for stores with complicated page layouts. It supported by most popular browsers, it isn't too heavy for the server and it is easily accessible.
Place the banners near the top of your most frequently visited pages.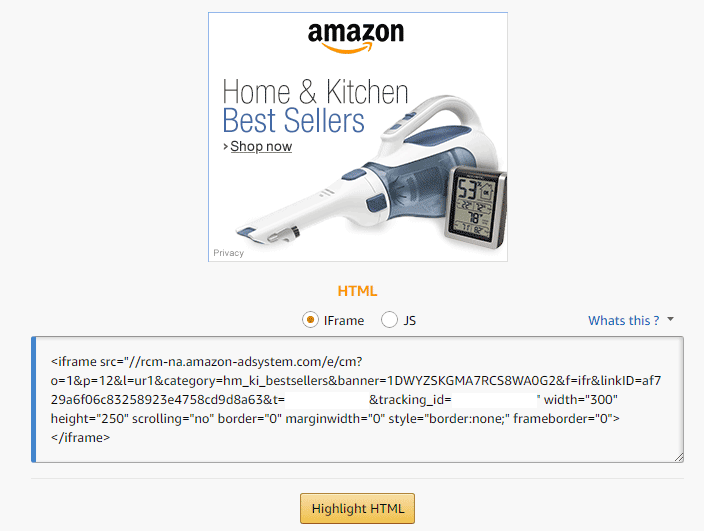 Product Links
Link to a specific product on Amazon and show some information about that product. This link includes your Associate tag and you will be paid for qualifying revenues coming through this link.
You can customize it as you need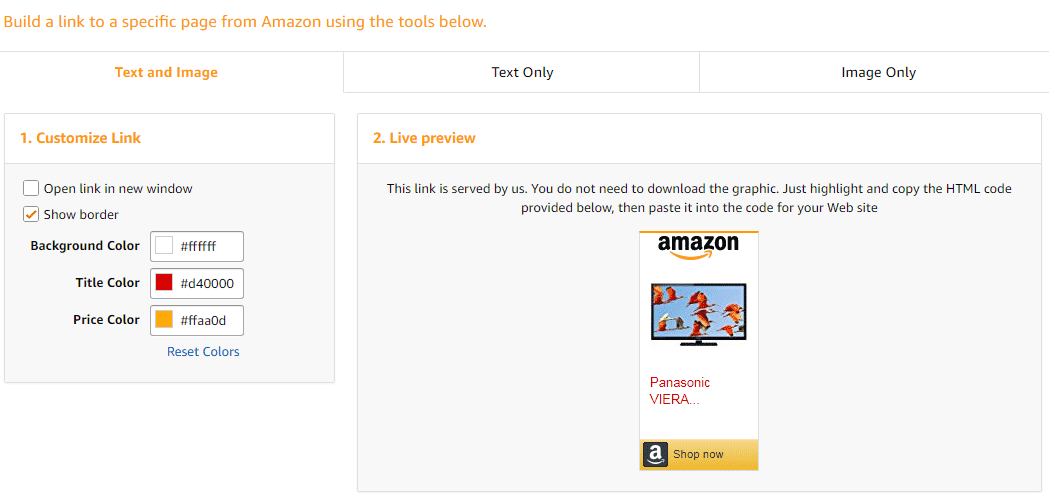 Site Stripe
The easiest way to link to any page on Amazon is to use your Associates SiteStripe toolbar. It will appear at the top of every page you visit on Amazon if you are logged in to Amazon using your Associates account.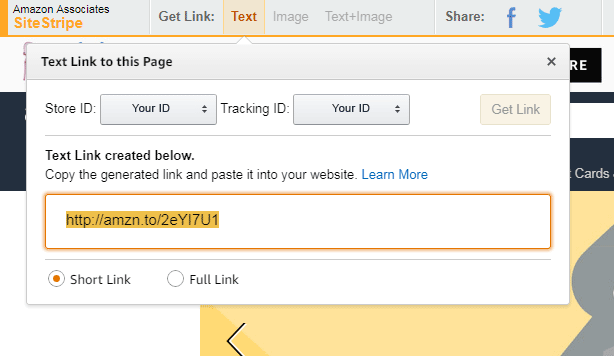 Summary
The most uncomfortable thing in the Affiliate system is tracking system. It's not real-time and sometimes it doesn't track your sales.
Also the payouts are delayed. For instance, if you have referred a sale in December then you can get paid in January itself. That is, Amazon reviews all the leads/sales that you have generated in the previous month on or around the 10th day of every month.
Amazon Products Manager
The Affiliate Program allows you to earn commissions on qualifying revenue by linking to Amazon's content. Place affiliate links to electronics, books, apparel, toys and more on your store.
Amazon Products Manager is a powerful Amazon Affiliate Magento extension that will help you make more commissions and save you a lot of time in the process.
To learn more about the unique features of our extension and for additional resources, see our guides.
Stay in the know. Our site will keep you up to date on tools, special features, promotions, and news.